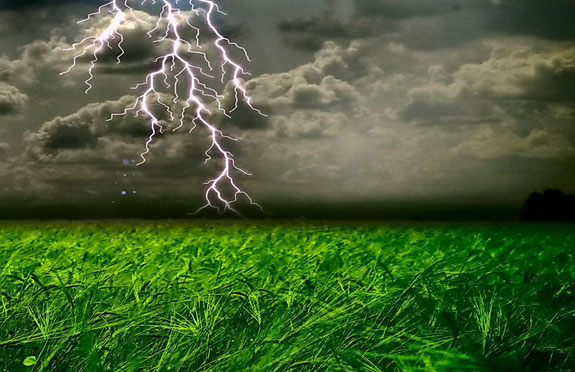 Attention:  MSHSAA Football Officials, Softball Officials, Baseball Officials, Soccer Officials
Attention:  Athletic Directors
Subject:  Recent Issues Dealing with Lightning – MSHSAA Contests
Date:  September 12, 2016
It has been brought to the attention of the MSHSAA Office that recent weather over the past couple of weeks, especially with reference to Lightning, has posed some issues, concerns and questions with regard to the not only the guidelines/protocol to follow during these instances but also some disagreement on "who" is involved with the decisions on suspensions, delays or cancellations.  This email is to serve as an official interpretation to all MSHSAA Officials and School Administrators with regard to the handling of delays, suspensions or cancelations of contests due to inclement weather/lightning.
It is not solely the decision of a game official on when to delay, suspend or cancel a contest in which inclement weather/lightning may be present.
It is difficult for a game official to adequately observe, focus and concentrate on the officiating of a contest and enforcement of playing rules while attempting to also watch/observe potential weather at the same time; therefore, for contest settings where inclement weather/lightning may be a factor, it is crucial that the game officials and school administrators are in communication with each other.  The importance of communication with regard to the possibilities of weather being a factor is important both prior to the start of the contest as well as during the playing of the contest.
School Administration/Administrator on Supervision has the primary responsibility for the observance of inclement weather/lightning and communication to game officials of any concerns during the course of the game using the NFHS Lightning Safety Guidelines listed below.  This statement is not to insinuate that a game official cannot observe impending weather/lighting between plays or during breaks in the action of the game. Although it is common practice for school administrators to use lightning detectors or cell phone apps for detecting lightning as an additional source of information, there are no guidelines or protocol in place that determines whether or not a contest is to be delayed or suspended based on the "detection" vs. "distance" of lighting while using one of these devices(detector/cell phone app).   The NFHS Lightning Safety Guidelines listed below are listed in the NFHS Rules Books by sport and are also found embedded in MSHSAA Board Policy #15 and are to be guidelines followed in the handling of the delaying, suspension or cancellation/rescheduling of MSHSAA contest due to lightning, especially in those cases in which game officials and school administrators cannot reach a consensus on the severity of the current weather/lighting.  These guidelines can also be found on the Sports Medicine page at www.mshsaa.org .  NOTE:  The guidelines for Lightning Safety specifically reference "thunder being heard" or seeing "Cloud-to-Ground Lightning" as determining factors/criteria for delaying or suspending play.
LIGHTNING SAFETY
National Federation of High School Associations Guidelines
October 2014
These guidelines provide a default policy to those responsible or sharing duties for making decisions concerning the suspension and restarting of practices and contests based on the presence of lightning or thunder. The preferred sources from which to request such a policy for your facility would include your state high school activities association and the nearest office of the National Weather Service. Proactive Planning:
Assign staff to monitor local weather conditions before and during practices and contests. At MSHSAA contests this will be the Administrator on Supervision in collaboration with the game official(s).
Develop an evacuation plan, including identification of appropriate nearby safe areas. Administration of the host school is in control of following the evacuation plan their school has in place.
Develop criteria for suspension and resumption of play: The bullets noted below is the criteria for determining when to suspend/resume play.  Should the administration of a member school and game officials be in agreement to enter a delay/suspension of the game without the presence of the criteria below they may certainly do so in order to allow more time for reacting to pending weather.
When thunder is heard or a cloud-to-ground lightning bolt is seen, the thunderstorm is close enough to strike your location with lightning. Suspend play for 30 minutes and take shelter immediately.
30-Minute Rule: Once play has been suspended, wait at least 30 minutes after the last thunder is heard or flash of lightning is witnessed prior to resuming play.
Any subsequent thunder or lightning after the beginning of the 30-minute count will reset the clock, and another 30-minute count should begin.
Review annually with all administrators, coaches and game personnel.
Inform student athletes of the lightning policy at start of season.
For more detailed information, refer to the "Lightning Safety" section contained in the NFHS Sports Medicine Handbook.
Respectfully,
Greg Stahl
Assistant Executive Director
Missouri State High School Activities Association
1 N. Keene St.
Columbia, Mo. 65201
573-875-4880