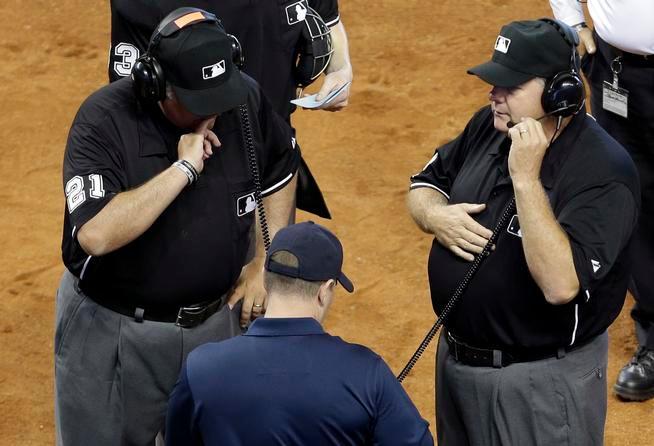 There are three teams in every baseball game: home, away, and the umpires. And while we aren't playing to win, we are out there to perform at a high level and do the best job we can. This means we have to be attuned to every part of our game, from rules knowledge to mechanics to communication. Most umpires know the rules backward and forward, and we've worked enough two-man mechanics for it to become second nature, but the most significant piece often missing from our game is communication. It's where we are weakest and where we could use the most improvement.
Why does communication matter? Here's an obvious example: Runner on first and no outs. The batter hits a deep fly ball to right center and the runner takes off when he sees the ball won't be caught. Who has third base coverage? The plate guy. So you head partway down the third base line to read the potential play on the lead runner. However, the outfielder bobbles the ball, and you recognize the runner now is probably going to attempt to score. What do you do? If you're a good partner, you call out to your base umpire that you're heading home, so he knows that third base will likely be open and his batter-runner might try for a triple. He can also adjust his position in the field for any plays on the bases because he knows you will be at the plate. That's called communication. And it can avoid a big blow up if two umpires — or worse, no umpires — make a call. But it's not the only time communication is critical to your success.
The Day Before
Good communication starts long before game time. In fact, it starts the day before, when you call or e-mail your partner to verify you're working together and to talk about who's working the plate and where you're going to park. Scenario: Game time is 4:30 and you arrive at the field at 4:00. As you look around for your partner, he's nowhere to be found. So you pull up Arbiter on your smart phone and call him. No answer. Now what? Do you call your assigner? Do you strap on your plate gear and cross your fingers, hoping your partner will be there in time to work the bases? How come you don't know where your partner is? Did you call him the night before? No? There's the problem. A simple two minute phone call the night before could have cleared this up and solved what might now be a big mess.
It is not one partner's responsibility to contact the other. Both partners have that responsibility. It doesn't matter if one partner is a 30-year veteran and the other guy is a rookie; both are equally responsible to call the night before and work out the details of tomorrow's game. Rank has nothing to do with who calls whom. Teamwork begins before the game.
What about e-mail? E-mail can be a great way to communicate with your partner, but it also has its drawbacks. Keep in mind that e-mailing your partner is a two-way street. If you don't hear back, assume he didn't get the e-mail. Pick up the phone and call. If you have to leave a message, do so and then wait a reasonable amount of time and call again. When in doubt, call. Whatever method you use — phone or e-mail — the important thing is to talk with your partner the night before the game. If there hasn't been two-way communication, you're not prepared for the game.
The Pre-Game
Most umpires don't have the privilege of working with the same partner all season long. In fact, we may not see the same partner twice all year. So it's critical that you and your partner have a thorough pre-game meeting before each and every game. Even when using standardized mechanics, it's important to review fly ball coverage and other basics, as well as some unusual situations before you hit the field, so you'll be ready for both the mundane and the wacky plays. Skipping the pre-game can spell disaster if you get into sticky situations, such as a rundown with multiples runners on base and catch/no-catch rulings with right and left fielders who might or might not be heading toward the foul lines. These discussions need to take place in the parking lot before you walk onto the field, so you won't find yourselves getting crossed up during the game.
A good pregame also gets you into a game mindset and allows you to focus on the game ahead, not on the rest of your day. Nobody on the ball field cares about the stresses of work, family, spouse, etc., so don't carry them with you to the plate meeting. For the next two hours you're an umpire. Worry about everything else after the final out.
During the Game
Has this ever happened to you? Runners on first and second, nobody out, your partner is in the C position, and you go to tap your face mask to indicate the infield fly rule is in effect — only your partner isn't looking at you. He's staring off into space or stuffing his mouth with more sunflower seeds, the umpire equivalent of the little league right fielder picking daisies. So you wait a moment, hoping he will look your way, but no, he's still out in his own little world. The batter steps in and the pitcher gets his sign. Your partner still hasn't looked at you. The windup, the pitch, and it's a routine pop fly to the shortstop. Does your partner remember the situation? Is he going to call the infield fly? You can't be sure because you never "talked" about it through eye contact and signals. Let's hope he comes back from LaLa Land long enough to make the right call.
To avoid this potentially embarrassing situation, stay in visual constant communication with your partner. That doesn't mean you have to stare at each other all game long, but it does mean you need to make eye contact before every pitch. Does the plate man know to the infield fly is in effect? Does the base man know the plate guy is staying home because there is a runner at second? Who has tag up coverage on a pop fly? How many outs are there?
This can be particularly difficult in a runaway game where it's easy to lose focus, but it's important nonetheless. Learning to communicate consistently in a 2-man system can better equip you for 3-man, with much more complicated rotations and coverages.
Communication, whether verbal or by pre-arraigned signals, makes the entire game run more smoothly all the way through.
Post-Game Communication
When the game is over, chat about it while you're changing clothes back at the car. Talk about game situations and how you could have handled them better. Discuss the good and bad of the plate guy's strike zone. Was his timing rushed? How were the pitches down at the knees? What about the lower outside corner (where every umpire struggles)? The feedback in these brief sessions can be just as valuable as a camp or clinic, mostly because it's fresh in your mind.
Be open to critique. And offer constructive criticism. It's how we all get better.
The best umpires are always learning. The day you stop learning is the day you might as well hang up your mask and donate your plate shoes to a new guy, because you're no longer an effective umpire. Before each game, especially early in the season, find at least one thing you need to work on and ask your partner to help you with it. It's not a sign of weakness to ask for help; it's a sign of strength to recognize where you're weak so you can improve that area of your game and become that much better at your job. Players are always trying to raise their batting averages and lower their error count. We should be striving to call better games and become better umpires.
Communication in all aspects of the game makes us better umpires. Be better, get better, and communicate more.